A week or so ago I predicted that I wouldn't be able to resist trying out Myndology notebooks. Turns out that this was an accurate forecast. I have several that I've put through the papercasting paces, starting with the Bare Journal (which you can read about on the Myndology site). This product has been reviewed before, so there's no sense in my repeating some of the basics about the product (to wit, it has some earth-friendly specs, a bonus here in the hypergreen Northwest). What I want to cover here is, how does it work for papercasting?

My original interest in this product came from the thought that I could store all manner of papercasted screeds in the same notebook, no matter their writing instrument of origin. You can't say that about other kinds of notebooks (unless you're a fan of the bulky three-ring binder, which gives me flashbacks to undergraduate survey courses rife with mimeographed textbook handouts). As I mentioned in my original post, Myndology products are disc-bound, which allows you to remove and rearrange pages within a single notebook.

I'm told there are several other products out there that fit this description, but I'm going to pull this review over to the side of the road right here and admit it: I like cool-looking stuff. Myndology notebooks have a distinct design aesthetic. (Unfortunately for my wardrobe, my taste for cool stops at paper products.) Also, people, please jump in and correct me if I am entirely off in my assumption that some of the other disc bound products are a little on the "GTD" side of things, GTD being, if you are not already familiar, a curious cult of personal productivity that I, as a disorganized and spontaneous person, have a hard time relating to. I am possibly being completely unfair.

On to our review. But wait? Why not papercast it? (Oops, edited to add, I refer to ring-bound notebooks in the papercasts that follow, but the term s/b disc-bound.)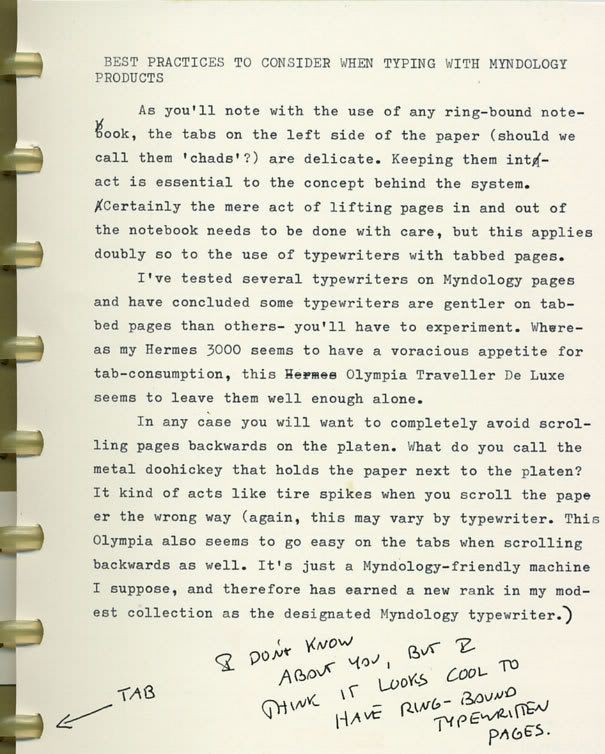 In conclusion, this is a fun notebook with some environmental cache. I really like the look of a typewritten page in a regular notebook. Who'd have thunk? Paper quality does not suck and holds up well to liquid fountain pen ink without bleeding or skipping. I also definitely approve of the fact that refills are available.

Cons are, the tabs are delicate, and you've got to choose your typewriter well, or you're going to mangle the pages. Also, if you're thinking of fitting some off-brand pages into your notebook, better start saving now for the punch.

I believe I forgot to mention that, regarding the refills, you can get different types of paper (lined, plain, graph) which works nicely to mix and match pen and typewriter papercasts.